Images - Special Collection: Postcards from the Front, 1914-1917

Between 1914 and 1918, 28.7 billion pieces of mail were sent between Germany and the front. On average, this equals about ten million letters per day. For many families, the army postal service was the only means for exchanging news between loved ones on the front and those back home. Postcard messages were seldom more than short greetings; above all, they functioned as signs of life.
In August 1914, postcard manufacturers quickly adapted their production to wartime conditions. Just a day after mobilization, stores were full of sentimental postcards of loving couples and fathers departing in uniform. Studio photographers produced large numbers of postcards depicting scenes from patriotic songs and poems. Over the course of the war, however, there was an increasing demand for "authentic" pictures of the theater of war. What few official war photographers there were – only several dozen handpicked individuals were allowed on the Western and Eastern Fronts – could hardly meet the demand. As photographic technology developed, it became easier and cheaper for soldiers to take photographs on the front and sell them to postcard publishers back home. Some of these amateur soldier-photographers developed their own photographs, made them into postcards, and then sold them to their comrades. Individual and group portraits and photographs from military hospitals sold particularly well.


The Christine Roller Collection
The seven postcards included in this section were mailed from the Front between November 7, 1914, and April 3, 1917. They were sent to Christine Roller, a Red Cross nurse at the Karl Olga Hospital in Stuttgart, by former patients and relatives. (The institution was supported by the Red Cross and converted into a military hospital during the war.) In addition to the correspondence featured here, Nurse Christine received numerous postcards from fellow nurses at first-aid stations in the field. She remained in Stuttgart for the duration of the war, however.
Christine Roller was born on January 5, 1879, in Ettmannsweiler bei Altensteig in the Black Forest. She was the second of fourteen children born to Andreas Roller, a farmer and town mayor, and his wife Anna Maria Roller. The Roller household was very Christian. For most girls of her generation, the future meant marriage and children, not preparing for a profession, but Christine decided to become a nurse, as she felt that nursing would allow for the best expression of her Christian charity. She joined the sisterhood at Karl Olga Hospital, where she received her nurse's training free of charge. In 1923, the sisterhood joined the Deaconess' Association. Work as a deaconess was (and still is) motivated by religious commitment and performed without pay. The nurses wore habits and committed themselves to celibacy, but, unlike nuns, they could leave the sisterhood at any time and even marry. Christine Roller, however, remained in the sisterhood until her death on November 10, 1936. The numerous postcards and letters she received from former patients are proof of her popularity and the friendships she shared with many soldiers long after their release from the hospital.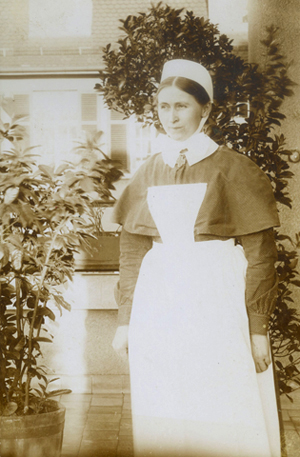 Christine Roller in her nurse's uniform. The honorary silver cross worn by all nurses at the Karl Olga Hospital can be seen on her collar. The silver cross was instituted in 1882 by Queen Olga of Württemberg.
Photographs and postcards are courtesy of the Mauch and Roller families, Weil im Schönbuch, Germany.