The Blue Rider (Der Blaue Reiter), Exhibition (1911-12)
Wassily Kandinsky (1866-1944) and Franz Marc (1880-1916) founded the artists' group Der Blaue Reiter (The Blue Rider) in Munich in 1911. The group was comprised of artists of both German and Russian decent. Members included Gabriele Münter, August Macke, Alexej von Jawlensky, Marianne von Werefin, and Paul Klee, among others. Like Die Brücke (The Bridge), the Blue Rider was an Expressionist group and mounted its own shows. In comparative terms, however, the artists of Die Brücke practiced a vigorous, passionate, and distinctly "northern" style of Expressionism, which was pictorial in emphasis and bold in its use of elementary forms and brash colors, whereas the Blue Rider artists generally favored a softer, more lyrical, and (eventually) more abstract strain of Expressionism, which has been called "south German." Members of Der Blaue Reiter were united by their use of color for both spiritual and symbolic ends and their interest in medieval and folk art.
The first Blue Rider exhibition, held at the Galerie Thannhauser in Munich in 1911-12, is pictured below. The group remained intact until the outbreak of the First World War, at which point Kandinsky and the other Russian nationals were forced to flee Germany. Both Franz Marc and August Macke enlisted in the German army and died on the front.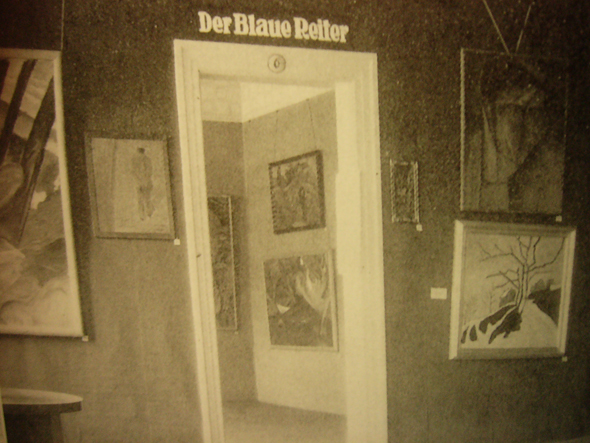 Source: Gabriele Münter- and Johannes Eichner Stiftung, Munich; reprinted in Gabriele Münter: The Search for Expression 1906-1917, exhibition catalogue, Courtauld Institute of Art, London, 2005.