1.
Fireworks in Nuremberg in Celebration of the Agreement on the Implementation of the Treaty of Westphalia (1650)
The Peace of Westphalia marked the end of the Thirty Years War, a devastating conflict that had....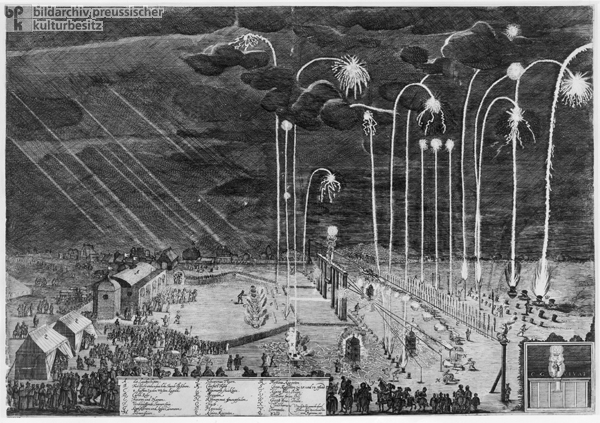 2.
The Battle of Fehrbellin on June 28, 1675 (c. 1675)
In 1672, Louis XIV of France (r. 1661-1715), in alliance with Britain and Sweden, invaded the Dutch Republic, starting what became known as the Dutch War. A coalition consisting of the Holy Roman....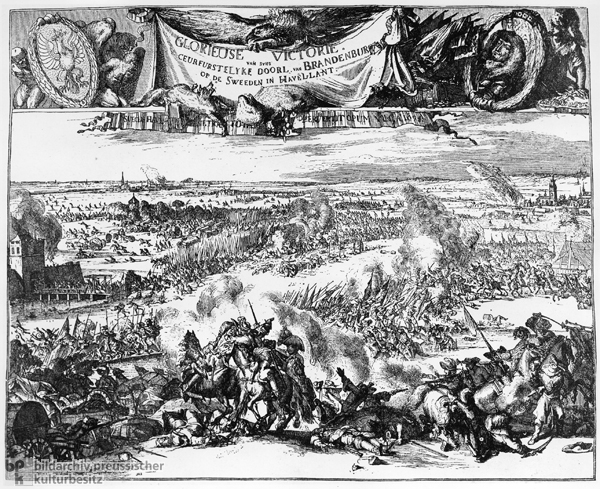 3.
The City of Stettin under Siege by Frederick William ("the Great Elector") in the Winter of 1677-78 (c. 1680)
Seeking to augment and consolidate his disconnected territories, Frederick William ("the Great Elector")....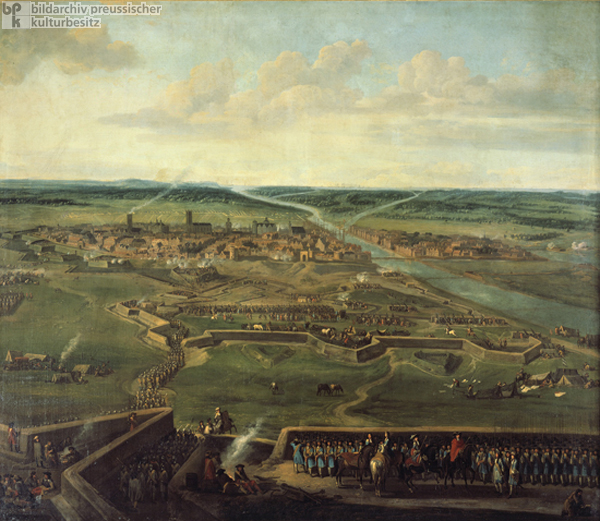 4.
Broadside depicting the Destruction of Heidelberg (1689) under the Leadership of French General Mélac (Undated Engraving)
The War of the League of Augsburg (or Palatinate War) was one of Louis XIV's numerous conflicts with the Holy Roman Empire. It lasted from 1688 to 1697 and saw the Palatinate laid waste by French....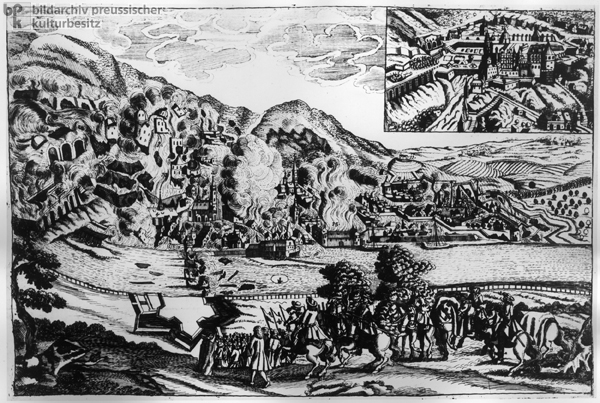 5.
Prince Eugene of Savoy and his General Staff at the Battle of Zenta on September 11, 1697 (1712)
Prince Eugene of Savoy (1633-1736) achieved legendary status in the Great Turkish War (1683-99),....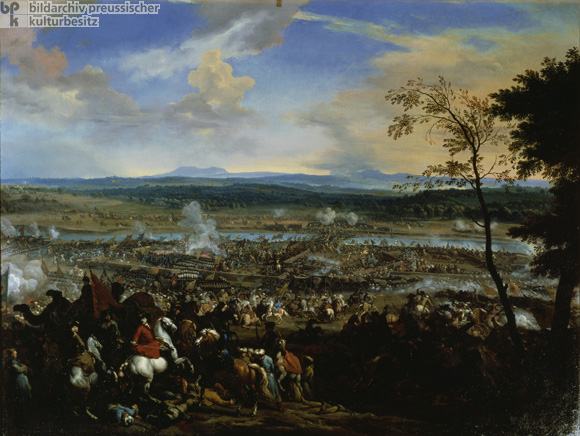 6.
Commemorative Diagram of the Siege of Stralsund in the Year 1715 (1718)
Stralsund, a former Hanseatic city, is a Baltic seaport on the Strelasund strait opposite the island of Rügen. The citizens of Stralsund adopted the Protestant faith early on and therefore sided....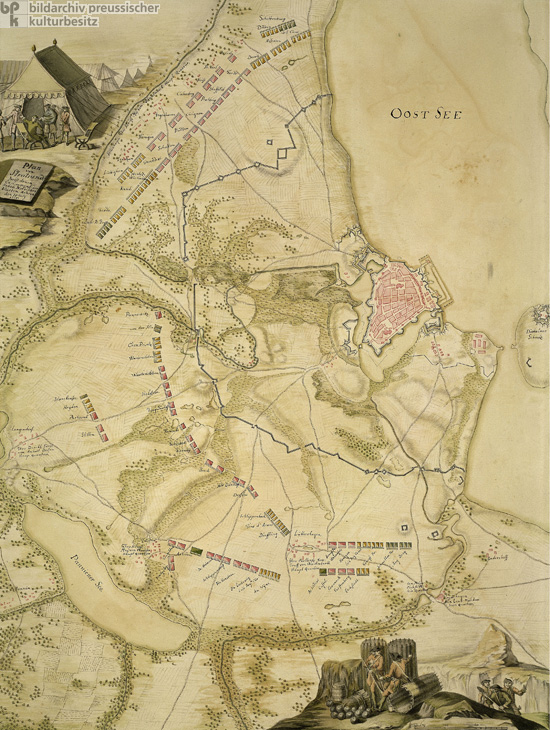 7.
Eighteenth-Century Military Recruiting Strategy – A Little Pocket Change and a Strong Drink (1726)
The excesses committed by mercenary armies during the Thirty Years War (1618-48) strengthened the trend toward standing professional armies. So, too, did the need to deploy large numbers of troops....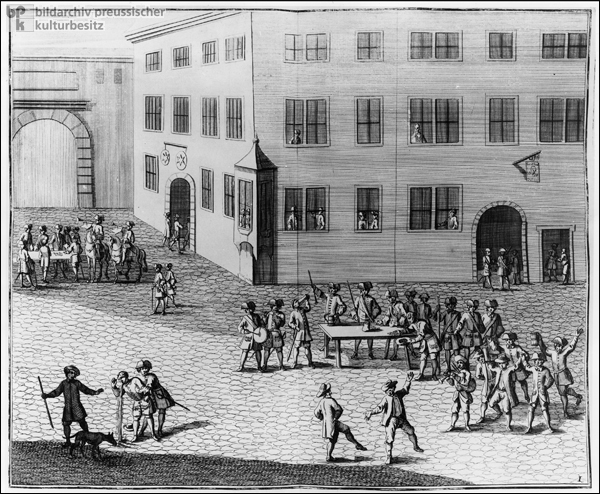 8.
Frederick II ("the Great") Leads the Third Charge of the Prussian Cavalry at the Battle of Mollwitz on April 10, 1741 (Late 18th Century)
In the first Silesian War (1740-42), Prussia's newly enthroned King Frederick II ("the Great") (r.....
9.
Frederick II's ("the Great") Sketch of the Battle of Mollwitz on April 10, 1741 (April 1741)
Frederick included this sketch of troop formations in the Battle of Mollwitz in a letter to Prussian field marshal Prince Leopold von Anhalt-Dessau on April 25, 1741.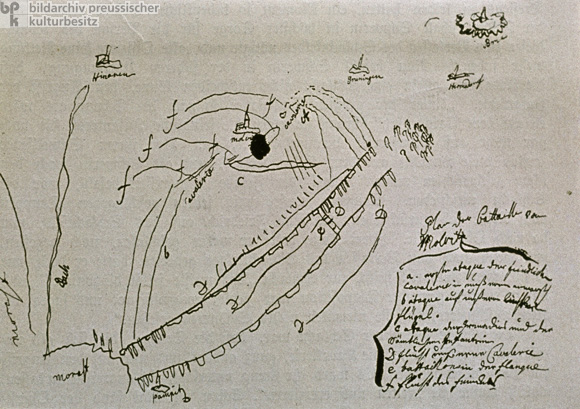 10.
Commemorative Reproduction of the Battlefield at Hohenfriedberg/Silesia on June 4, 1745 (18th Century)
After occupying the coveted province of Silesia in the First Silesian War (1740-42), Frederick II ("the....