The Paris Peace Conference (January 18, 1919-January 21, 1920)
After successful ceasefire agreements with Austria-Hungary (November 3, 1918) and the German Reich (November 11, 1918), the victorious powers Great Britain, France, Italy, and the United States summoned all countries that had taken part in the war to the Paris Peace Conference. From January 18, 1919, until January 21, 1920, a total of 32 states debated the conditions for peace that should be set for the German Reich and its allies. At the forefront were reparations payments and territorial settlements that would restore Europe's pre-war boundaries.
Taking President Wilson's Fourteen Points as a starting point, the Entente and the defeated Central Powers signed five separate treaties, each of which was negotiated in a different Paris suburb: the Versailles Treay for the German Reich, as well as the Treaties of Saint-Germain, Neuilly, Trianon, and Sèvres for Austria, Bulgaria, Hungary, and Turkey, respectively.
The photo shows a pre-conference between the Allies in the Clock Hall of the French Foreign Ministry. The German delegation was excluded from this discussion.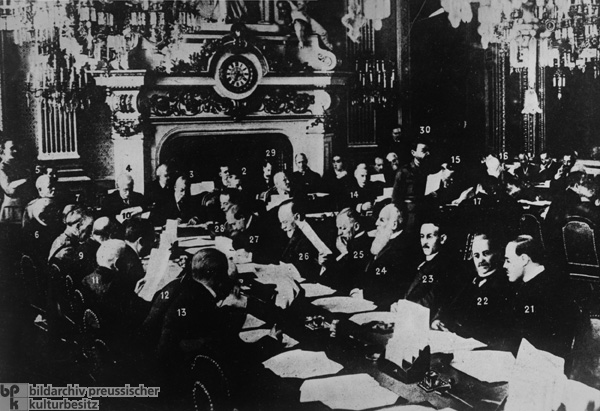 © Bildarchiv Preußischer Kulturbesitz